A Paranormal Thriller (Novelette)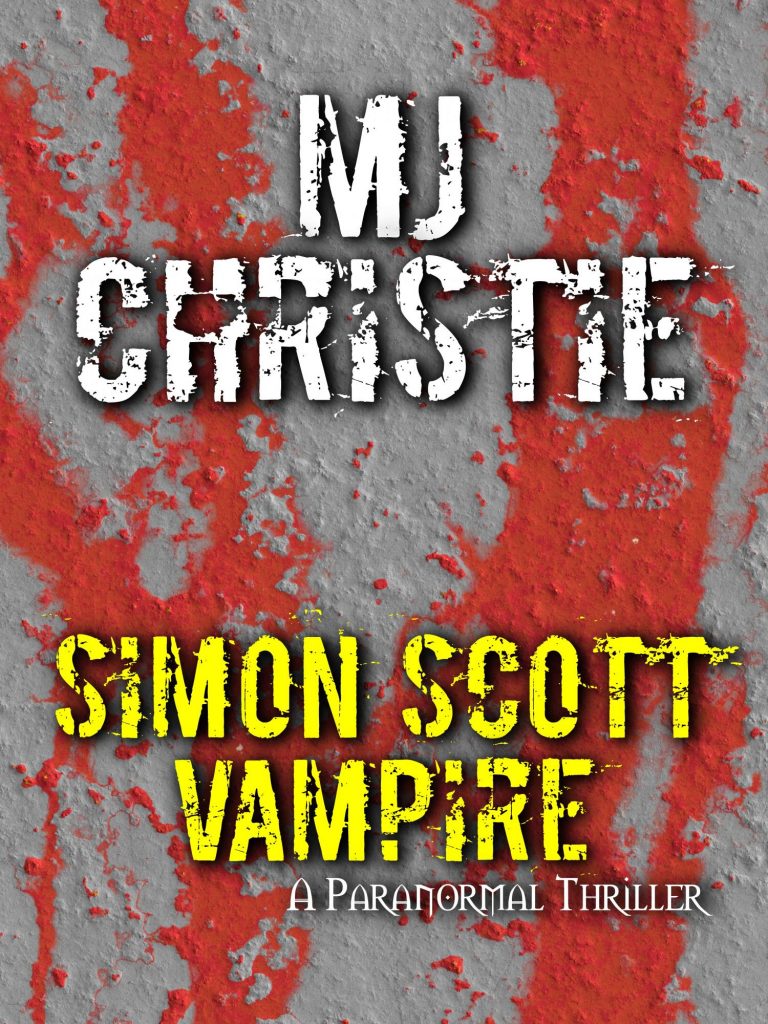 The phone's luminosity held me captive. It lit up the Formica work bench, shimmied across the surface, heading for the hard, tiled floor of the lab. Should I let it commit the sacrificial act? Better not.
I picked it up. 'Scott.'
'We've got a dead one.'
The coroner's office usually informed me of suspicious deaths, but the call didn't come from there. Not outside normal working-day hours. Nice way of telling me, though. Desensitisation was a perk of the job, apparently.
'And you are?'
'DI Havilland asked me to call you.'
'And you are?'
'Constable Lock.'
'Thank you.' I committed the name to memory. We might cross paths. It was always good to know who and what I was dealing with. 'And where is this 'dead one'?'
'Back of Jackson's nightclub in Stratford, East London.'
'On my way.'
Jackson's nightclub? A bit of a dive. It had never been demolished when the old town of Stratford became a cosmopolitan due to the 2012 Olympics. A pity. If I remember rightly, Wednesday was singles night. Not well thought out, in my opinion. Fridays would be more congenial – the poor lonely souls could then drink their sorry little hearts out in the knowledge they wouldn't have to get up for work the next morning. Some of them at least. I couldn't afford that luxury myself.
The outside air was warm, damp. The humidity competed with Asian climes – climate change was a thing but try telling that to the majority of humans who thought it was a conspiracy theory.
With a head flick, my internal air con sparked into life. Ah, much better.
The van was in its rightful place. Remarkable. The day team had left it where it should be, for once. I checked the back for the bag-of-tricks and regulation PPE: Personal Protective Equipment. Closed it satisfied.
It shouldn't take me long to reach the scene. Ten minutes at most. On call hours had their advantages. East London streets looked ominous at this early hour. As if waiting for the nightclubs to turn out and cause havoc. No matter how empty though, I was always surprised by the crowd gathered at a crime scene.
The number one thing in today's society that people revelled in: suspicious death and especially murder. Suicide came in at a close second. Although, once the motive or reason became clear, human beings quickly moved on. Boredom was responsible for the erosion of a community like the plague. Everyone today was looking for the next big thrill. An experience that would surpass all others and they would go to any lengths to acquire it. And that's why they came. To watch and glorify in the macabre.
As usual, it was awkward to park. I pulled up in the middle of the road behind a squad car. Got out and surveyed the scene. A lone police office was setting up a taped barrier to keep the assembling throng from inching forwards to refine their view and their gawp.
'Keep them back, or better still get rid of them,' barked a voice I didn't recognise.
Sounds and shapes merged. The crowd's excitement exacerbated my already alerted brain cells to such an extent my pupils dilated. Now I could see everything in all its diverse detail, down to the tiny atoms that formed the heady breeze messing with my hair. Psychic energy. In abundance and focused on the victim.
'Doctor Scott?'
'That's me.' The interruption helped to ground me.
'The victim's this way.'
I could already see the woman from where I stood. Spread-eagled on the ground, highlighted by the alleyway's lamplight. A quick sniff and the woman became a girl.
'Has anyone moved her?'
The officer shook his head. 'DI Havilland said not to.' He gave me an odd look. How did I know the victim was female? He'd end up in a mental institution if I told him. Or I would.
The bodysuit was a bit tight. I checked the packet: Large. Hmm. Must be a new range. The police officer fidgeted from side-to-side. We locked eyes and he stopped swaying.
'You go ahead, I'll find my own way.' The slow-motion donning of the coverall wasn't designed to irritate. It was inbred. A mantra. KAAM: Know your environment. Assess the situation. Assimilate. Manage.
The coverall was zipped to capacity, hood pulled up and over my head. It helped to close off the encumbrance of human excitement. Very distracting. The hood worked like horse blinkers: the less I saw peripherally the better the focus.
'The boss said to accompany you.'
Okay finished. 'Right, lead on.'
It was June. We were in England. It shouldn't be this hot at one thirty in the morning. Despite my internal air con, my shirt and trousers clung to me beneath the coverall.
'Over here, Doctor.' Jon Havilland was a friend, kind of. We tolerated each other. Hadn't quite managed a drink at the pub, yet, but I never gave up trying. Human friends are important to keep it real.
I halted beside Havilland. A strong metallic odour permeated my nostrils. Dean Chambers, the scene-of-crime investigator, shifted his position carefully, taking pictures, conscious of not disturbing the crime scene. Havilland didn't look up, his jacketed figure bent forward, face directed toward the corpse on the ground by our feet. Well, at least he wore shoe covers.
'You should really be wearing one of these,' I said. He faced me. Eye-contact difficult at the best of times. Pushing the hood back helped.
'Doctor,' he said without emotion.
'Inspector.' We exchanged nods. 'What have we got?'
'Another teenager.'
Dean Chambers stopped with the flash photography and stood beside Havilland. 'Late teens, I'd say. Eighteen, nineteen.'
'Okay. Let's have a look, then.' I glanced down at the naked body. My guesstimate on age tallied with Chambers'. Her clothes were neatly folded and stacked on the ground beside her corpse. Weird and ultimately intimidating. Hesitation wasn't usually an adjunct at crime scenes, but something whispered across my shoulders. Havilland and Chambers, both experienced professionals, discreetly diverted their eyes. They'd seen enough. Can't say I blamed them. This was the second teenager to die inside a week.
'Have we got a serial?' Havilland sounded nervous. Understandable. The last girl was raped and suffocated with her own bag.
The shrug was spontaneous. Embarrassed, I attempted to hide it with a roll of the shoulders. Havilland gave me one of his infamous faces. He wasn't impressed. Truth told, I'd seen this sort of thing so many times down the centuries, any emotional reaction was quickly discharged. It happened. A sad fact of being an immortal, or a police forensic pathologist. No excuses for it really. Inhuman some might say, but then– Desensitisation must be true.
'Don't let us detain you any longer than is necessary, eh?' Havilland eyed me.
I deserved that.
The ground was dusty and offered nothing. Her arms and legs were stretched to an abnormal degree. So much so, one would have expected to see the ball and socket joints dislodged. Observation discounted dislocation and the wrist and ankles revealed smooth, un-calloused skin. No tethering marks evident. Carried out by force of will? The thought disturbed me.
'Do you recall how the other victim presented?' I asked.
Havilland looked surprised by the query. Odd. My boss, Noah Kent, attended the scene. I'd seen the post-mortem results and a few photographs but that was all. An experienced person, present at the scene, should have a more accurate eye. The question was a pertinent one, in my opinion.
'She didn't look like this and her clothes weren't sitting in a neat pile beside her.'
'I doubt it's the same perpetrator.'
Another one of his faces. Unfortunate. I couldn't deny the facts to accommodate simplicity. The knowledge there may be two murderers loose on the streets of East London didn't sit well and I understood why, but killers were a part of the human experience. Would‑be assassins lurked in the shadows, dodging apprehension. That someone appeared to die of natural causes did not mean it was so.
The lack of spilt blood intrigued me. Its metallic smell strong in the air. AB Negative: a rare blood type that matched my own. Also, a hint of AB Positive. Mixed blood? Odd, though not implausible. Not if–
A probable explanation became apparent.
The cilia lining my nostrils reacted to something sweet and non-identifiable. A scan of the body highlighted a smooth, sticky sheen, confirmed by the glistening tip of my gloved finger. I couldn't detect any discernible penetration of the skin, but the neck revealed all.
'How long's she been dead?' Havilland interrupted my prelims.
The problem with on-scene examinations was police officers.
'Give me a minute. Let me do a preliminary inspection first, and then I'll take the temperature.' By the rigor on the face and neck I'd guess death at around two hours ago. Body temp would confirm.
The neck became my focus. Havilland's lengthy groan halted my exam. The passing thought dropped into my head: bloody doctors. It made me smile. Telepathy was an innate ability and one I had honed over the centuries. Unfortunately, it stretched only to the human. Where my non-human counterparts were concerned, I was easily and often blocked. My attempts to keep them from penetrating my own thoughts, however, yielded no success.
Telepathy itself was a handy tool. That humans were so ignorant as to dismiss their capability of such communication, left me in no doubt of their vulnerability. Constant checking of thought processes was pertinent and necessary. Sometimes, like just now, when my brain was absorbed in deduction, human thoughts could, and did, slip through. Readjustment was necessary and essential.
To appease Havilland, I stopped what I was doing, opened my bag and took out a glass thermometer; inserted it into the victim's rectum, and waited. 'Have you taken photos of the perimeter, Dean?' Always prudent to make any pause useful.
Chambers nodded. 'Yeah, not much to write home about. Bit of a mystery all told.'
'Why?'
He shrugged. 'Doesn't seem to be anything here suggesting foul play.'
I agreed. Chambers was a good crime scene investigator, he rarely missed anything. The adjacent vicinity around the girl's body was cryptically clean. Interesting. I immediately thought of Leda, but it didn't smell like her work; besides, she would have removed the body leaving no clue a murder had taken place.
The thermometer reading confirmed my first impressions. 'She's been dead about two hours. I'll do a liver temp back at the mortuary, it's more accurate, but I'm confident she hasn't been dead long.'
'Was she raped?'
'Can't tell you that until after the post-mortem.'
'Was she killed here?'
'I don't think she was, no. In fact, I'm not convinced she was murdered.'
Havilland's head jolted backwards, shocked.
'A post-mortem will reveal all,' I assured him.
Taking the hint, Havilland stepped away mumbling.
Back to the neck. Two oval marks located at the girl's left carotid artery confirmed my suspicions. The reason for my hinted suggestion of suicide to Havilland was partly because the wounds were healing. There was no doubt we had a vampiric crime on our hands. The girl was transforming while we spoke. Her veins rapidly filling with AB Negative blood. If I didn't get a move on, I'd have a serious situation on my hands. I needed to get her out of there, pronto. An attending skeleton crew at the scene made my task easier. Persuading them nothing had happened – it was all a figment of their imaginations and they needed to sleep it off – would be a simple process.
Rising, I squinted through narrowed eyelids. The breeze strengthened, becoming an immobilising squall as I amassed the minds around me. Widening my eyes, I stared into Havilland's. I see no murder here. I directed my thought impressions to those present, including the non-personnel watching. None of you need to be here. Go back to the police station, the hospital, your homes. There's nothing to see here.
Havilland turned, headed for his car. I held out my hand to Chambers. You don't need that camera, Dean. He gave it up and left to find his own vehicle. The ambulance and squad car engines revved into life, blazed through yellow crime-scene tape, and the departing detritus of human life.
A sinister calm drifted towards me through the air. Familiar and disturbing, it played tag with my gut. I shook away the cold draught from across my shoulders and set about getting the girl into the van. The sensory perception festered. Then it dawned.
Leda.
I turned. Black shapes hovered at the vampire's back. A cleaner-upper, Leda was here to dispatch the girl. She'd have to get through me first. A statement I had little chance of following through.
'You're a bit late. I had to persuade the senior detective that this never happened.' I motioned towards the girl.
'Simon Scott of the noble House Saxon.' Leda's voice, velvet smooth, wafted over me. She knew me well enough. We'd had our spats – kind of. 'You have done your grandsire proud. He will be pleased.'
What was she talking about?
I stepped back smartly when Leda's face pressed into mine.
She was of the vampiric house Wanton – a hairs-breadth below mine – the name should explain most if not everything about her. Cleaners in the human world were looked upon as low class. In the vampiric world they were almost royalty. Almost. Cleaning up after a vampire kill allowed the creature's presence to remain an illusion. Vampiric activity was devolved to human pastime and the subject of imaginative stories. Leda's rock-solid operation had successfully kept vampires hidden within the human world for centuries.
But if you got on the wrong side of Leda, you were dog meat.
Dilated pupils eclipsed deep-violet irises. Her hair, a brilliant strawberry colour, accentuated the dark leather biker's gear she wore. Streamlined – an appropriate word to describe her appearance. Although, I could think of other more pertinent adjectives.
She darted a look towards the girl. Animated shadows moved silently into place.
'Everything I do is deliberate.' She purred, lifting a long slender finger. A ring, emblazoned with her 'house' name, sat snugly below a well-defined knuckle. Every vampire had one. Duty-bound to wear it out of respect, but I refused. To say I despised my grandsire would have been putting it mildly.
Her talon-like fingernail inched along the edges of my hood, settled below my chin, and ripped the coverall away from my throat with less effort it took for me to zip it. The nail's crimson tip rested on my thumping pulse. The sneer might embody sexy, but to linger too long at her eyes would have been suicide. Leda's gaze could be deadly if you gave her enough of an advantage. Luckily, I was privy to her games, having been on the receiving end more than once. Let's say I had yet to learn my lesson. But right then I needed to concentrate, and to do that I had to avoid eye-contact.
A soft chuckle. 'You disappoint me, Simon.'
'Do I?'
'Mm. I always enjoy you when we meet, you know that.'
'Not today, Leda.'
'Obviously not.' A quick flick of her head and the army of shapes descended upon the girl.
'Over my dead body.' I lunged towards the girl and – nothing. Leda's finger locked me to the spot. She ran her tongue across her lips, her eyes smiling. Shadows multiplied, consuming the space occupied by the girl. Her naked body was lifted into the air and held fast within the darkness.
'Damn it, Leda. Where are you taking her?'
'Don't play dumb with me, darling Simon.'
'What are you talking about?'
'Where were you two hours ago?'
'I was working on something in the lab.'
'Hmm. Yes, you were.' Her sly wink caught me off guard.
She waved a hand and the girl was gone. Spirited away by a sea of black.
'Do you know the vampire responsible?' My feet moved, dislodged from their prison.
'We both do.' A half-smile flitted across her face, followed by something I couldn't decipher – sympathy? Maybe.
I dismissed the thought. Leda didn't have a sympathetic bone in her inhuman body.
'Leda—'
'Hush now.' She pressed her finger to my lips. 'Rest. He'll be needing you replenished for the next time.'
'But–'
She was gone.
He'll be needing you replenished for the next time. Who will? Leda's initial statement resurfaced, 'Your grandsire will be pleased–' I could only conclude that Saxon was the catalyst to what she had intimated – that I had something to do with the girl's demise.
Never.
I hadn't fed as a vampire for decades. I acquired and drank – in a glass – AB Negative blood from the hospital's blood bank. A good friend served me well. An understanding friend. Besides, the girl had been all but drained – enough blood left to assist mutation and keep her alive – to allow her transformation. For what purpose?
Had I been used as a facilitator? Against my will? Saxon was a master of the persuasive art. He would love nothing better than to have control over me. My dam had protected me against him since my inception. Was she in danger? Was she alive?
Time was of the essence. I needed to contact Thorn. He would know what to do.
Jumping into the van, I threw the clutch into reverse, spun the vehicle around and set off in his direction.
Copyright (2020) MJ Christie