(Paranormal – Mildly Erotic)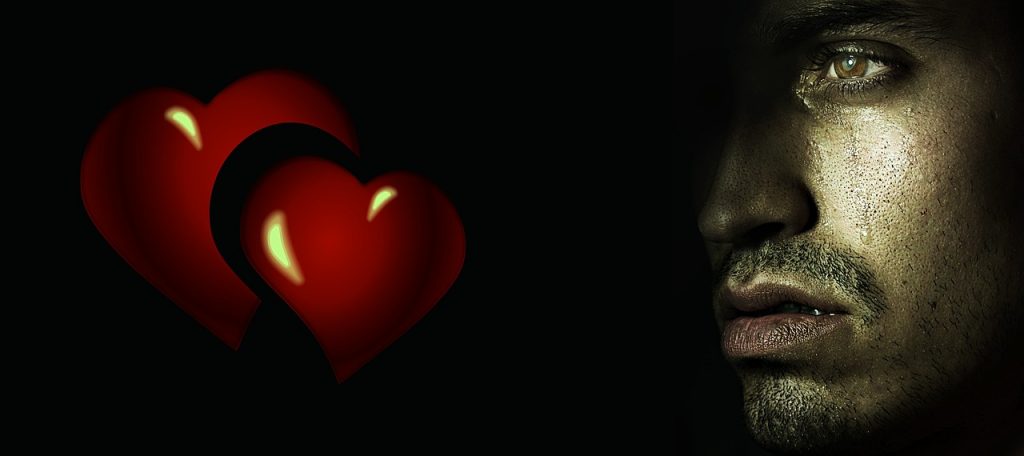 Lights shimmer along the water's surface, conjuring magic. Or at least to my eye. Visuals lean towards two-tone grey these days and especially from this height, but I do detect red and blue ribbons bestowed on the river by the London Eye.
I always imagined human senses would be enhanced when fashioned into a state of supernatural existence. Hearing, taste (definitely taste) touch, and smell (unfortunately) have exceeded expectations, but my eyesight is pretty ropy: 'Something has to give,' she told me.
A choice would've been nice: 'Touch, smell and hearing will serve you better,' she says. Well, I say: 'It's my damned body–' and one my mother doted on until my death a year ago.
But she doesn't give a dog's tooth about that. All she wants is me – preferably without enhanced eyesight. Maybe that's a good thing. Maybe she's not the scintillating seduction she used to be. Maybe she's not the best fuck I've ever had.
There's only one way to find out.
My current family look on me as an outcast. Anathema. It's ironic when you consider what they are and how one of their kind took my ancestry and revamped it. Okay, I allowed it to happen but there was a lot on offer at the time. Now I spend my days hiding in shadows. Thirsty all the time. Not for the normal stuff humans crave. No. My tipple of necessity is thick, sticky, full-of-genuine-goodness human blood.
Feeding on humans is essential if I want to live. Animal blood doesn't cut it. Crammed with impurities and not enough protein for my needs. Over the months, I've learned to stop at precisely the right moment to ensure the prey will a) live and b) not turn into another me. My Dam is determined to rid me of this habit, but I'm growing stronger as each full moon passes. I wonder who will be the weaker, eventually.
I had dignity once upon a time. Lead guitar in a rock band. Earned a fair bit off it too; though, I never gave up my day job. That's where she found me – at the local hospital. I worked in the pathology lab. Had a promising career lined up. My engagement into medical school was due to start a few months after I died.
There's no point in crying over spilt blood, right?
Right.
The city looks amazing from up here. All angles and flickering lights. If I were still a normal human, I'd maybe give a toss. Not anymore.
A familiar smell rises to caress my flaring nostrils. Ah, she's here. Standing from my crouching position on the steel crane, I leap into the air and breathe in the intoxicating effects of flying and then dropping before coming to a cat-like stop across the road from the Soho restaurant.
Punters hogging the pavement are oblivious. Cigarettes hang from chubby fingers. Smoke puffs through puckered lips like a locomotive belching steam. From this vantage point, my vision is slightly better than a human's – I can see two-day-old stubble and bloodshot eyes, hair that should have been washed yesterday. Smudged mascara and lipstick in need of replenishing.
But she looks fantastic. Immaculate. Sexy. Inviting.
Hello, sweetness.
Adjusting the collar of my jacket, I amble over, and meet her at the door.
'Oh,' her voice is sensual, caressing; it steals inside my brain and kisses my synapses. She steps back a little.
'After you.' My smile is rehearsed, I know it's a winner.
Green eyes widen, eyelashes flutter. Neck and cheeks flush pink. Heart rate increases.
Step one accomplished: she likes me.
Inside, she shrugs off the designer coat and offers me her throat. Metaphorically speaking. She's not actually asking me to pierce the quickening pulse in her neck; although–
Soon.
Bare, creamy shoulders react to the absence of lambswool. Goosebumps rise. The urge to stroke them into submission is high. Red hair is pulled into a stylish bun, wisps of which stray to grace her nape. Fingers itch to fondle them back where they belong.
She turns from the coat check and stops abruptly. Stares up at me with wide, dark eyes. Strawberry-blonde ringlets fashion a frame around her perfectly shaped face.
Is that my heart beating faster?
'Um … excuse me.' Her lips only partially close, her gaze settling on my mouth.
I learned fast how to summon the lengthening of my canines. Right now, she's safe.
'Sorry,' I say, slipping off my jacket and exposing my broad chest adorned in an Armani shirt. I could command her to undress me here in the restaurant's reception, but I don't want to embarrass her; besides, that's too easy. I like to work a little harder for my meals.
Stepping to one side, I casually allow my fingers to brush against the delicate skin of her bare arm as she passes by and feel the feathery flutter of her radial pulse. In my peripheral vision is the man she's meeting. A large, oaf of a human, though well-presented, and polite. I watch him pull out her chair and glide it beneath her tight derrière – I imagine my hands cupping the rounded cheeks, inserting a finger between them.
But first–
I demand the maître d' seat me at a table by hers. He evicts the already occupying couple amidst a small kafuffle. I assist by suggesting they would rather sit upstairs where it is warmer. They agree with me.
Settled, I glance over and meet her coy gaze. Smile. She smiles back then hides behind her menu.
This should be easy.
Standing, I approach their table, stare her companion in the eye, and summon the violet hue. Normally my eyes are blue, the violet hue transmits what I call the Yoda effect. Writers of paranormal fiction call it glamour: the force by which a vampire can direct its prey. In other words, make the victim do what the vampire wants it to do. I used it on the maître d' and the dining couple earlier with good effect.
I hover (not literally – most fiction writers are erroneously hilarious) for a second before saying, 'Sir has to go home to attend his wife.'
He gropes for an apology. She gasps. His face exposes his betrayal. She didn't know he was married. Or that he has two young boys. Shame on him.
Pain flashes in her eyes.
'May I?' I ask, as he leaves.
She nods.
I take his place. Gaze at her exquisite face. Eyes of emerald green sparkle in the candlelight. I am again reminded that a heart sits inside my chest, its increasing rhythm fuelled for her.
'Have you chosen your first course,' I ask, summoning the waiter.
'Yes.'
The waiter arrives to take our order.
She holds a hand up. 'Actually, I'm not very hungry.'
Hmm. My meal may come sooner than I had anticipated.
I wave the waiter away and rise. 'May I escort you home?'
Standing, she gazes keenly at my mouth. 'That would be very kind, thank you.'
'No bother.'
Steering her towards reception, we collect our coats and exit the restaurant. Plumes of smoke caress the space outside like mist. I shield her through the worst of it and hail a taxi. She gives the cabbie her address and we settle into the backseat.
'I never knew–' she begins.
'Hush'—violet flashes sooth her into silence—'he isn't worth your justifications.' Shifting closer, I drape an arm around her shoulders and pull her in; cup her chin and tilt her head upwards to allow my gaze to drift in ocean currents.
'Who are you?' she says, lips quivering.
'I am your undoing.'
Her chuckle is endearing. She closes her eyes and snuggles into me.
The violet never lets me down.
The taxi stops in front of a three-story townhouse. It matches umpteen other such structures all locked together in a close, surrounding a small fenced-in park. The ground-floor flat is apparently where she resides. It is very quaint and very Victorian. My Dam is – was – once a Victorian woman. She hasn't told me the whole story of how she was turned or of the vampire responsible. He is well known in vampiric circles; apparently, though I haven't met him yet.
'Will you come in for a drink?' she asks. Twinkling eyes beneath dark lashes challenge me.
'I couldn't—'
'Why?' She feigns offence.
'Ahem–' the cabbie clears his throat.
I retrieve my wallet and pay him.
Playfully, she grabs my hand and tugs me from the taxi, saying, 'One drink won't hurt.'
I admit, I'm a little taken aback. I hadn't imagined she'd be so … forward. I had expected more of a … fight. I'd prefer that if I'm truly honest.
Ah, well. Onwards.
'But you hardly know me.' I stand on the pavement and experience the cab depart in a roar of dust and petrol fumes.
'You saved me tonight.' Ruby-red lips curl. 'It's the least I can do.'
'Well, if you insist.'
She takes my hand again and leads me inside to her apartment.
Throwing off her coat, she eyes me as I remove my jacket. A faint ripple of unease stabs at my nape. She approaches and runs her hands over my chest.
'We'll have this off you in no time.'
'Um, sorry, what did you say?'
'I said: I have whisky and lime.'
'Ah, okay. Yes, that would be nice.'
Stepping away, she licks her lips. 'Nice.'
'Er'—I shake my head to tweak my hearing—'what?'
'I said: ice?' She laughs, tipping her head back and exposing her throat.
A quickening pulse anticipates my reward. 'Yes, yes please.'
'Won't be long. Make yourself at home.' Before leaving the room, she encourages me to sit on the large, black leather sofa, patting its plump colourful cushions.
While she's gone, I take the opportunity to survey my surroundings. No photographs adorn the ornate mantlepiece which rests above an equally ornate fire grate. More Victorian influences. Two portrait paintings arrest my attention. One is of a man, the other a woman. She is vaguely familiar, but before I can take a keener look my host returns.
'Come, sit with me.' Settling the drinks on the white marble coffee table, she sinks herself into the cavernous pit of soft animal hide.
I join her and take a sip of my drink. Heavy on the scotch but I like the burn it leaves at my lips, in my mouth and down my throat.
'Now, what are your plans for me?' She strokes a hand along my thigh.
'Pardon?' My ears burn with wanting to know but not quite discerning the nature of her words.
She runs her other hand down my sleeve, leaving a trail of bereft, electrified hairs. My heart lurches against my ribcage, and I soon realise there is more to this woman than I had at first thought. Spicy perfume floods my nostrils as she eases herself on top of me, spreading her legs wide.
'I said: I want you to fuck me?' Deft fingers leave a trail of loosened buttons.
Her touch is fire on my skin. Nipples react to lengthening nails tracing over my chest. She pierces one, sucks it, lapping at the blood with ferocity. I'm pinned, unable to move as she rides my expanding groin. The exquisite agony is lessened when she releases the fastening of my trousers, rising just enough to expose my erection. Roughly repositioning herself, she takes up the reins again. This time I'm invited to the party.
We gallop frenziedly through misshapen landscapes, past grotesque faces, and gaping maws baring sharp, razor-edged canines.
This can't be happening. Why am I seeing these abominations?
Being with her brought such visions. Monstrosities of nature.
My eyes are captured by a familiar grin, revealing well-acquainted-with fangs. She sinks them into my thumping throat. I hear the artery pop. Feel the gush of dark red blood pumping, dowsing stimulated flesh. Penetrating talons sketch a bloody trail over my heart.
'I will always be your best fuck, neophyte.' Pulling back, licking vile black‑stained lips, her clenched hand hovers before plunging in. 'And your last.' Bone cracks beneath the infringement. Vice-like fingers curl around my incumbent life giver. 'Who needs a stake.' She flicks her wrist and removes my still-beating heart.
At least there isn't any pain.
Copyright (2020) M J Christie