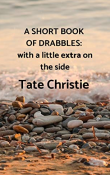 A short book of micro-fiction including drabbles (hundred-word stories), dribbles (fifty-word stories), 55ers (any guesses?) and Fibonacci spirals. Some stories are stream of consciousness, some descriptive, others reflective or humorous. Some pieces were inspired by songs and lyrics plus a few naughty ones.
A collaborative anthology by M J Christie & Frances M Tate of short fiction including: drabbles, fifty-word stories, 55ers and Fibonacci spirals.

Available here.
*Frances M Tate is a writer of Paranormal fiction. At present she is working on a three-book series.